What about Supplemental Ketones And Bi-Polar?
David Bradley talks about the experiences using supplemental ketones and the Keto//OS product from Pruvit.  Initially we see someone who went in looking for the performance and physique benefits that so many people, myself included, have experienced, but in this interview we find out very quickly that there were several other benefits that were experienced to go with.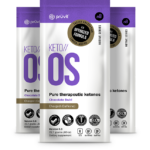 In this interview we briefly share the struggles with bi-polar disorder and some of the medications she's tried in the past for relief.  Keep in mind, neither one of us are doctors.  Nor are we making any claim to the efficacy of supplemental ketones and bi-polar disorder.  We're seeing more mental clarity and like me, more energy throughout the day.  You'll hear more about that when you watch the interview.
If, after watching the interview you find yourself interested in giving Keto//OS a try, feel free to reach out.  Leave a comment below or email me (puravidaetc@gmail.com) and I'm happy to talk with you about it.  Also, if you want to do a little leg work on your own (I know I did) please do.  By all means, visit the Pruvit research center and do your homework.
Obvious disclaimer here:  These statements have not been evaluated by the Food and Drug Administration.  Prüvit products are not intended to diagnose prevent treat or cure any disease.  If you are under medical supervision for any allergy, disease, or taking prescription medications talk to your doctor.  Also, if you are breastfeeding contact your medical provider before adding any new supplements to your daily regimen.
https://plus.google.com/u/0/111753058048352347213/posts