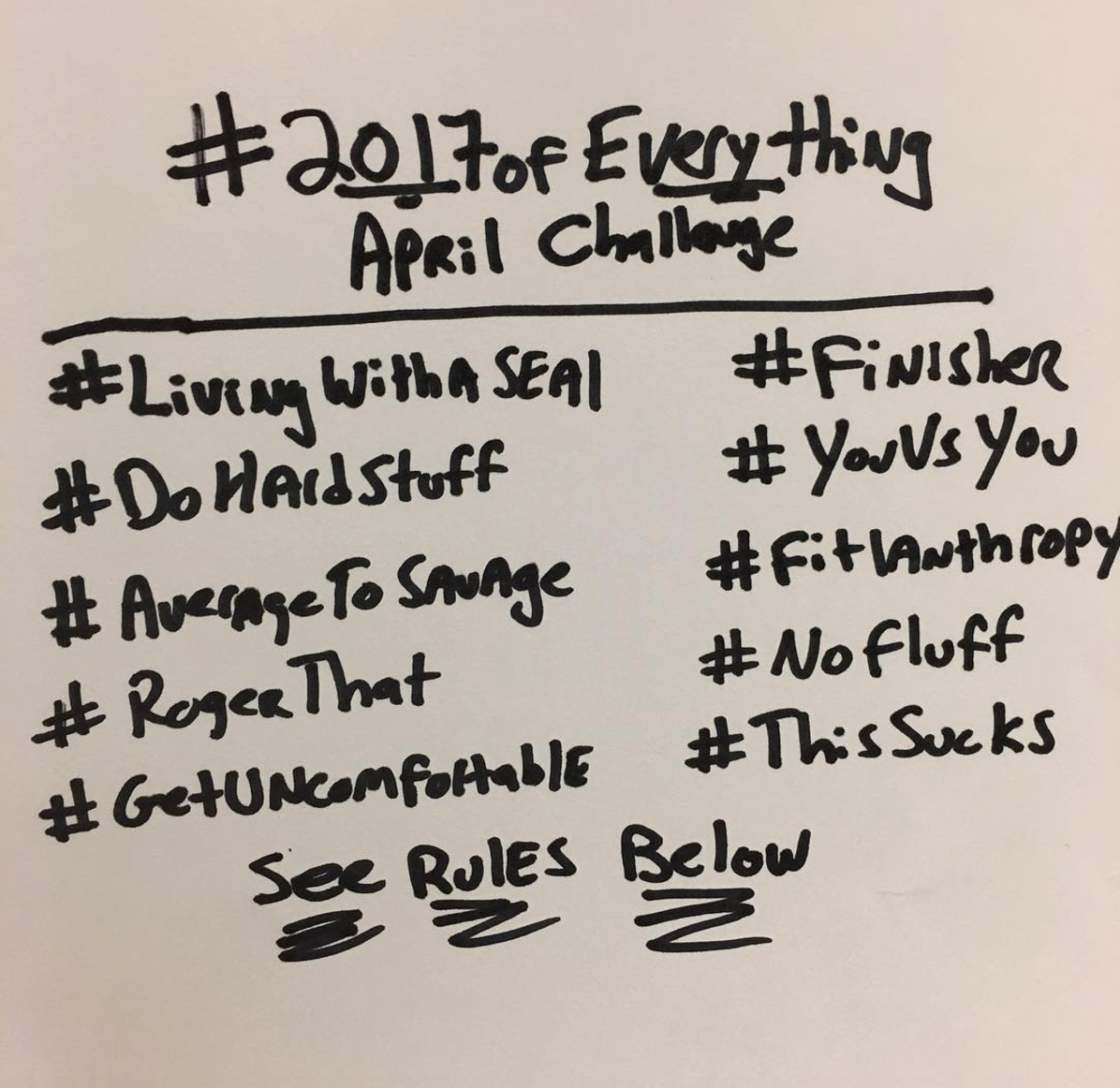 #2017ofEverything:  April Edition
Head over to Instagram and my buddy Jesse Itzler of Living With A SEAL fame is raising money for charity by trying to kill me.  Good news is, we're helping others and it will be a glorious death.  In fact, every month this year Jesse is dropping new physical challenges and if you complete it, he's kicking in hard earned cold cash to a different charity each month.  This month, it's Autism Hope Alliance.
RULES: (direct from the source) "Do the exercise (below) that correlates to each letter in the phrases (above). Each competed phrase is 1 workout.  Complete all phrases in April for Gold. Complete any 5 phrases for Silver. Any 3 for Bronze. It's on the honor code. YOU DO IT…I DONATE $100"
Here's the #2017ofEverything for April drills:
# = 100 jumping jacks

A = 10 push-ups

B = 2 minute plank

C = 10 burpees

D = 20 sit-ups

E = 10 burpees

F = 20 squats

G = 10 lunges a leg

H = 1 minute plank

I = 12 push-ups

K = 200 jumping jacks

L = 20 squats

M = 20 mountain climbers a leg

N = 2 minute plank

O = 50 squat jumping jacks

P =10 push-ups and 10 sit-ups

R = 20 shoulder touches a side

S = 12 broad jumps

T = 20 crunches

U =100 jumping jacks

V =15 burpees

W =17 burpees.


Y =30 burpees
Today's Workout: #LivingWithASEAL
I'm going to do all of these workouts this month so make sure you subscribe and follow along.  The timing is perfect here because I have a lot of traveling to do this month and these routines will prove perfect on the road.  Today I did #LivingWithASEAL.  Which means…
# = 100 Jumping Jacks
L = 20 squats
I = 12 push-ups
V = 15 burpees
I = 12 push-ups
N = 2 min. plank
G = 10 lunges p/ leg
W = 17 burpees
I = 12 push-ups
T = 20 crunches
H = 1 min. plank
A = 10 push-ups
S = 12 broad jumps
E = 10 burpees
A = 10 push-ups
L = 20 squats
Time it took to complete was 20 minutes and 18 seconds.  I kept the rest to an absolute minimum and used the push-ups as almost an active recovery.  The last 20 squats suck and that's all there is to say about that.
What did I learn from the #LivingWithASEAL workout?  I suck at planks.  I don't practice these in my normal training.  So the highlight of this workout for me was exposing this weakness.  This gives me something to focus on in my normal training.
The Real Lesson:
And I suspect that everyone of these workouts will expose a chink in the armor, push a limit and leave me stronger than it found me… and there in lies the real lesson.  Rich Man's Gym, as you know, is about strength of body, mind and spirit.  It's also about training anywhere.  No need to go to the gym to get in the best shape of your life.
So if you decide to tag along with Jesse and I, know your suffering serves the greater good and you're training for a purpose greater than yourself.  Here's what I want you to put your attention on while you're training.  How can this physical effort also strengthen my mind and my spirit?  Can you push past a perceived limit?  Can you find a weakness that opens up an opportunity for new growth?  Don't just get the work done but finish stronger.  Finish better.

https://plus.google.com/u/0/111753058048352347213/posts