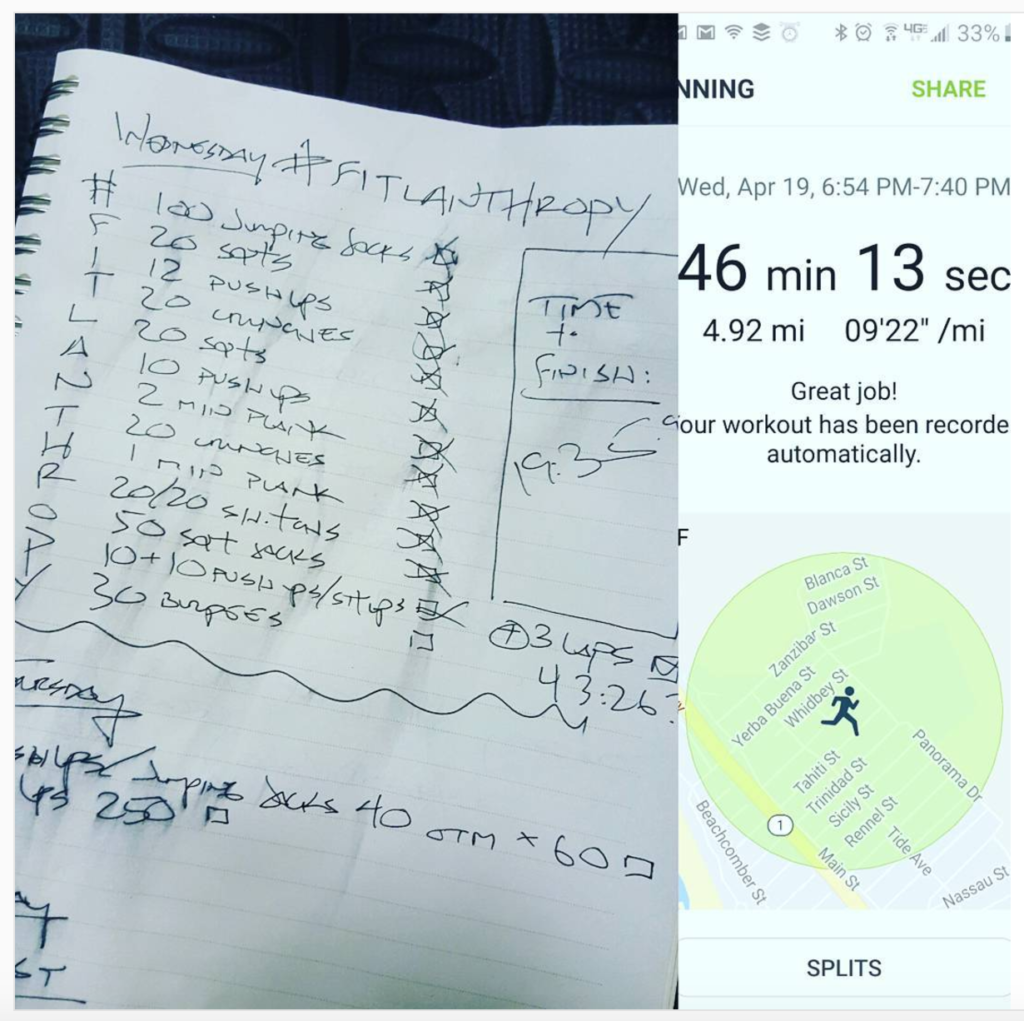 #FITLANTHROPY And A Run
With #Fitlanthropy done that means eight down and two to go to complete Jesse Itzler's #2017ofEverything challenge for April.  Fitlanthropy = fitness + philanthropy.  We get in a few physical challenges, Jesse gives money to charity.  Total win/win!  Each letter represents a different drill.  All bodyweight drills.  Anyone can do this.
What was great for me tonight is that after this workout I challenged myself to go hit the bricks and get in a run.  4.92 miles through my neighborhood with a few hills that are just plain rude.  So why do it?  Why torture myself like that?
A.)  That's what I ordered up on Sunday night when I plotted out this weeks training and
B.) Because it sucks… but not as bad as others have it.
I'm running some nasty hills after a bunch of squats, jumping jacks, push-ups and burpees.  So what?  Somewhere a parent is trying to cope with the realities of autism.  Somewhere a family is grieving their fallen soldier husband and father.  My pain of 30 burpess at the end of #Fitlanthropy doesn't mean jack squat…  or squat jack.  Either way, I can push a little harder, go a little farther, suffer a little deeper and honor the bravery of families who thrive and strive when they could just as easily quit.
Philanthropy defined:  "the desire to promote the welfare of others, expressed especially by the generous donation of money to good causes."
#Fitlanthropy sidebar observation:
This is exactly why we should all get stinking, stupid, filthy rich.  Seriously.  Look at what's happening here.  Jesse's got a few bucks to throw around.  How's he doing that?  By making a difference for the better.  Better.  Another great word.  When we push our physical limits, we get healthy and strong.  I don't know about you, but I also feel better about myself and can take that confidence into the rest of my life.  It makes me a better husband, friend, son, cousin and sales professional.
And because we're getting better, we're influencing others to do the same.  Meanwhile, Jesse's using our personal victories to give back to the world and share his wealth (not just money) with others.
So for all you participating in the #2017ofEverything, congratulations for giving of yourself to give to others.  I'm honored to play this little part in it.  Let us make our days ones of purpose and meaning and work for causes greater then ourselves.  Let us all strive to create enough wealth in our lives so that we too can enjoy the luxury of giving in quantities great enough to do something significant.  Yes, every little bit counts and yet, how cool would it be to be able to stroke a check for ten thousand, a hundred grand, or more to your favorite charity?
https://plus.google.com/u/0/111753058048352347213/posts